This blog is about hosting reviews on my personal experience that I have used till date. I will be explaining about hosting plans for a blog and ecommerce stores on WordPress CMS. Hostinger was founded in the year 2004, until 2017 it was not popular. Later on they improved their services a lot with all latest technologies like LiteSpeed Web Servers. When creating or shifting a website, you need to check the following points to decide on choosing a Hosting.
Your website type. Blog or Ecommerce Store?
No. of visitors for your website (on Google Analytics)
Your visitor's nearest Datacenter
Your Budget.
Hostinger Coupon Links can be found here (Updated Frequently).
Most web hosting providers give 30 Days Money Back Guarantee. So it is recommended to setup and test your website with all plugins installed within that 30 Days and you can have refund if it doesn't fit your need. Another best option is install and configure your website in localhost (on your PC) and finalize your design, setup and then buy the hosting.
There are 3 use cases for 3 different websites. So you will get an idea which suits you well
A Simple Blog Website
An Ecommerce website with less number of visitors
An Ecommerce website with huge number of visitors and products.
The above mentioned are hosted in Hostinger with different plans.
Before moving further let's know about Shared Hosting and Cloud Hosting.
What is Shared Hosting?
To understand about shared hosting, let's take an example of Housing flats, where you will be sharing resources like Water, Street Lights, Roads, Maintenance Service, etc. These resources can be used by anyone whenever they needs. Some may utilize water more and some doesn't. Similarly, Shared hosting is like a multi-tenant flat, where you will be sharing resources like CPU, RAM, etc. Based on their config, they might have given bandwidth limit for each website that doesn't cross it limit and affect slow down other sites hosted in it.
However, Shared Hosting is not recommended for Ecommerce store with large visitors may come to website at a same time (Concurrent Users). It may crash the website like during festival days, where all websites running heavily with discounts. A Woo commerce website need good processing power.

What is Cloud Hosting?
Cloud Hosting was new trending technology that uses virtualization technique to use the resources in an easy to scale way. There will be big server (Datacenter) with powerful processor and Storage available as a Single Physical Server. A Software that will create and allocate resources as we require like Virtual CPU, Virtual RAM, Virtual Storage. This ultimately reduces Infrastructural Cost and Power Consumption.
Let's say, if we need 2xCPU Power, using the software we can create an instance with 2XCPU on the same physical server (like creating Digital Ocean droplets) and these resources is dedicated and won't share with anyone.
VPS and Cloud Hosting are almost similar, but in VPS, you need to manage everything from installing firewall, security, etc. The Cloud Hosting combines VPS Hosting but everything is managed by the Hosting Provider.
Hosting Plans based on various requirements:
Site 1: Shared Hosting for a Simple Blog:
For a simple blog with less number of visitors/month, you can go for shared hosting as it consumes less resources. Later you can upgrade as required. Hostinger provides an option to upgrade it's top tiers on it's type (Shared Tiers or Cloud Tiers).
Initially, this site (Tedizen) was hosted in GoDaddy and later on it becomes very sluggish and I can't even able to publish a blog. I enrolled on a 2 Year Plan and I completely wasted those time. Then later on moved to Hostinger Premium Shared Hosting recently. Now it is working good as expected after configuring LiteSpeed Caching, Cloudflare then the speed 'A Grade' in GTMetrix for my near server location. From there onwards, I started posting contents for my blog whenever I get time.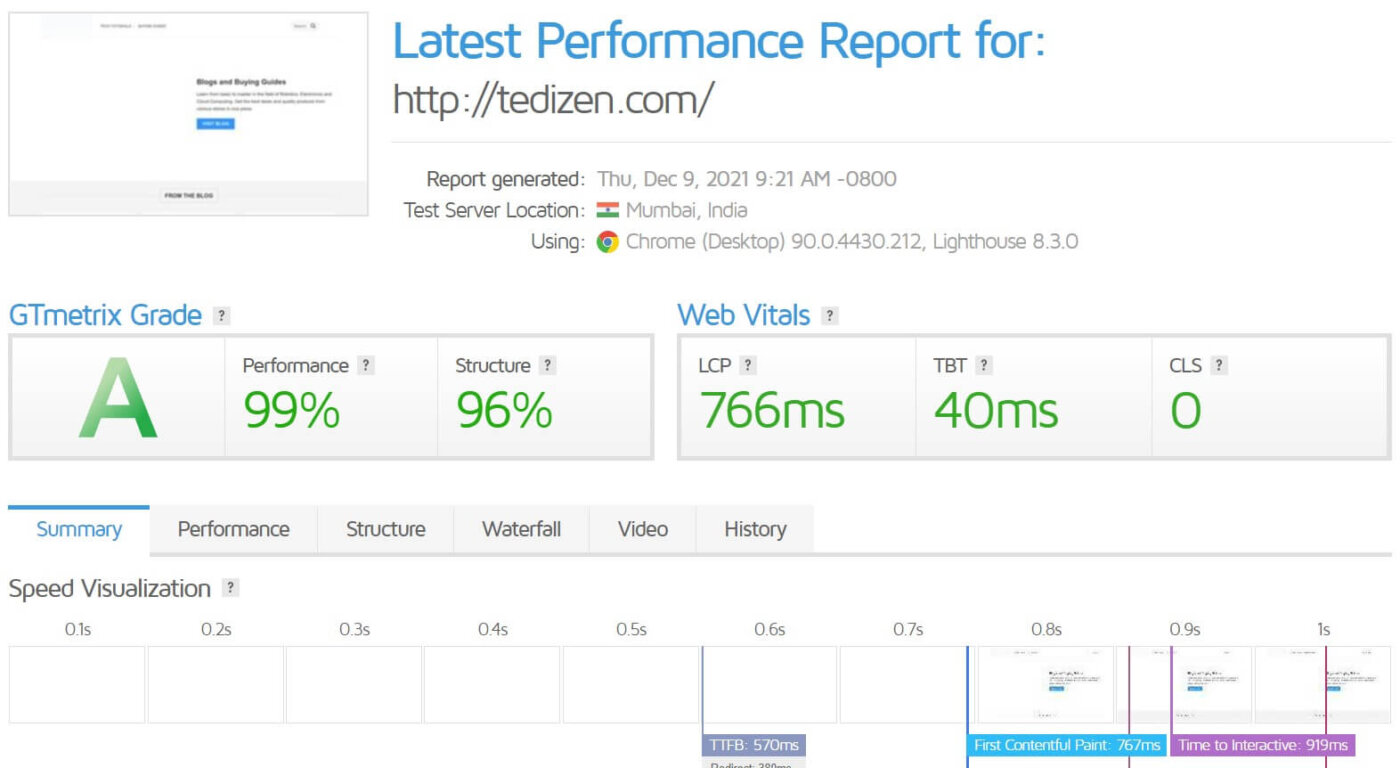 When I do research for good hosting and cost effective until my blog gets more visits, the first choice was BlueHost. It is also a good Host in past that support nginx, but it little pricey and also when asked with support their web server is Apache only. Later I get to know about Hostinger in advertisement. I have compared the specifications and pricing it was good for that pricing. But at I saw one bad review about this hosting at a website, but after trying out it is completely different what was mentioned.
After doing research from my side, until 2018 it may not be the best hosting. After that, they have litespeed servers where performance of nginx and Apache together as litespeed (as mentioned on this Plesk blog). They have improved their service to many regions and support team is very good. Some complained about HPanel, but it has very good UX and usage than cPanel. So I decided to try it out and it all went well for me. But I Recommend to go Business Hosting if you want good performance and more plugins installations required.
All tiers available in shared hosting and currently I use
Site 2: Shared Hosting for a Small E-Commerce website with less visitors:
I was creating a website for a client as follows,
Ecommerce website (Woocommerce) with less no. of visitors.
Less products up to 50 Products max.
Low Maintenance and cost
So I checked with hostinger team if the shared hosting is good. They asked me to go for a Business Shared Hosting. But I chose Premium Shared Hosting and check if it is ok. As I got hosting for my website previously, I have seen an option to upgrade my plan. So decided to give a try with Premium Shared Hosting and if needed can go for business shared hosting. Finally, the Premium Shared hosting itself does its job. There is no Cloudflare Installed yet.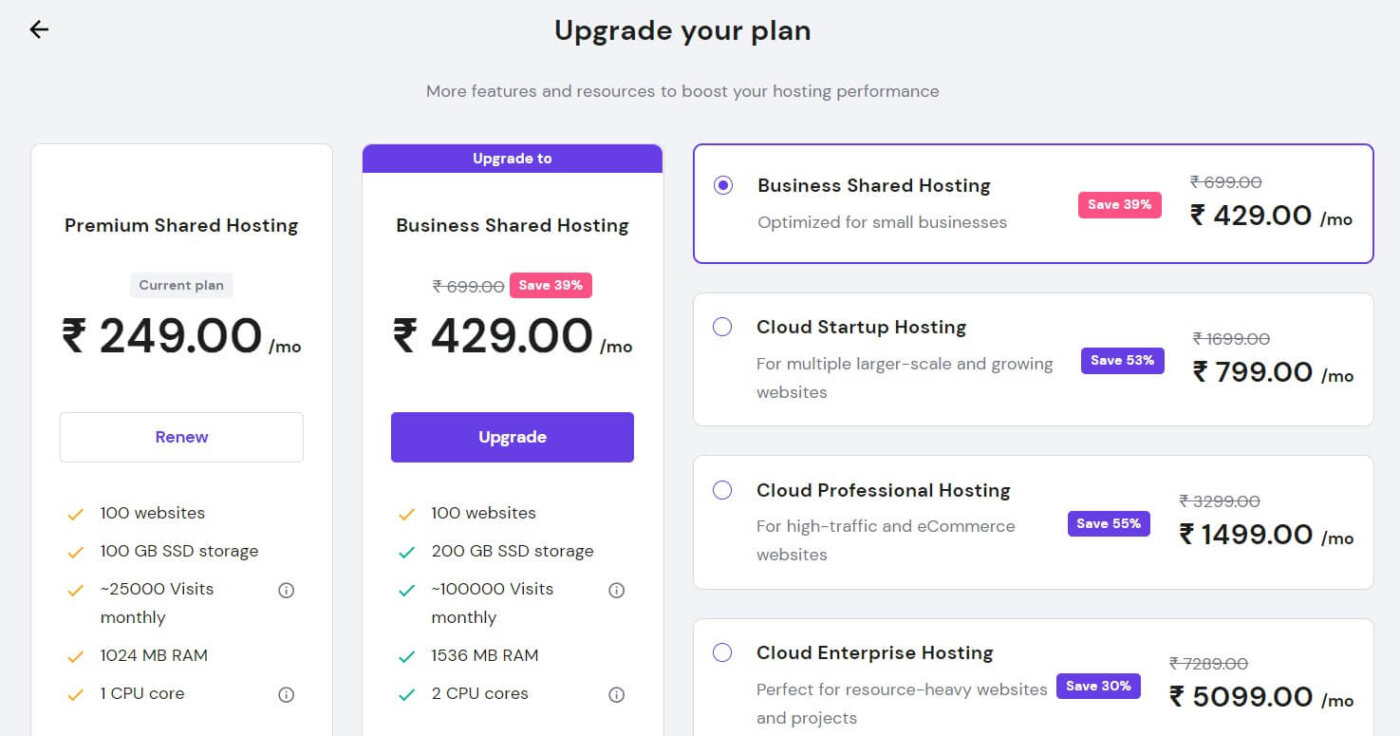 All tiers available in shared hosting and currently I use
Site 3: Cloud Hosting for a Big WooCommerce Store with 30K Visitors
This is the time where I learnt the bit more about Cloud Hosting. We have a website that has 30K Visitors/Month. It has around 900 different Products. Concurrently 15 Users can access our website. We did a complete research, and finalized A2 Hosting to host our website as they mentioned AMD EPYC Processors on their servers and Turbo Boost. But later on we came to know even the CPU is shared and is limited by certain bandwidth. So it is a bad idea to host an higher resource website in a shared hosting.
Problems faced:
Before also we used a Cloud Hosting on HostGator with 6 Core CPU and 6GB RAM but it runs on Apache Server(old). Nginx and LiteSpeed are better than Apache Server. We thought as we moving to better server and less CPU is enough and finalized A2 Hosting. Because AMD EPYC™ is an excellent processor with up to 128 Cores. But A2 Shared Hosting limited the CPU usage. After shifting to A2, the CPU Usage was always 100% all the time. When we open more than 5 Pages at a time, the website crashes. We tried optimizing with cloudflare, caching, etc. but no use. Then we decided to get better plan in A2 Hosting itself. Unfortunately, we didn't found anything and are not matching our budget. So we asked for a refund as it is within 30 Days. They refund it within 2 Days. As mentioned previously, it will be good for a Blog websites or Simple Company Portfolio Website.
Shifting again to Cloud Hosting after trial with shared hosts.
I just suggested, I was using Hostinger and it was good for my blog and explained about LiteSpeed, but still told having doubt does it handle 30K Visitors/Month. We have to be careful as it is a business website and almost lost sales for a month along with rankings. So we talked with Hostinger support team and asked about Cloud Startup Hosting and WordPress Premium Hosting. They told both are similar features and have dedicated resources. So we decided to go with Cloud Startup Hosting. According to our research, woocommerce requires minimum 2 Core CPU, 2GB RAM. The Cloud Startup has that and can easily upgrade if it doesn't work.
Now we migrated our hosting configured Litespeed and Cloudflare. In GTMetrix our website loads within 2.3 Seconds (it was 9-12 seconds in Hostgator before). All the resources are dedicated.
Features that I Liked:
Free Migration Service
Support is very good with good knowledge base articles to understand what steps they followed, etc. This actually helps us to solve by ourselves in future instead of contacting them again.
Cloudflare can be easily configured within HPanel
HPanel is easy to Use.
LiteSpeed Cache Plugin with all wordpress optimization settings.
Pricing and Upgrade Feature
You can change server location as your wish (Limited to 1 Transfer / Month). It is recommended to choose server nearest to your visitors and use CDN.
SSD Storage
All tiers available in shared hosting and currently I use
Hostinger provides a graph view on your dashboard. If there is a performance drop, it will notify so that you can upgrade if needed. There might be reasons for high resource usage due to migration, cloudflare caching, cron jobs, peak visitors at a time, etc. Based on that you can decide to upgrade or not for smoother experience. You can check out the Hostinger Support Article for resource usage.
All the mentioned above is exactly as per my personal experience. So if you are looking forward to try it out, you can purchase it from this link, so that I can earn some small referral fee with no extra cost for you. It will help me sharing more useful contents in the upcoming future and can spend more time on useful contents.

Coupons, Deals, Offers and Cashbacks: