ChatGPT is an AI-powered conversational agent or chatbot based on the GPT (Generative Pre-trained Transformer) architecture developed by OpenAI. GPT is a type of language model that uses deep learning techniques to understand and generate human-like text.
ChatGPT can be used in various applications, including customer support, virtual assistants, educational tools, content generation, and more. It is capable of understanding context, maintaining coherent conversations, and generating meaningful responses in natural language, making it a powerful tool for interactive communication with users.
Who made ChatGPT?
The ChatGPT is created by OpenAI, an AI and research company, and It's launched on November 2022.
Getting Started with ChatGPT?
Step 1: Click here to Sign-in/Sign-up ChatGPT.
Step 2: Create an account using Sign-up Option or you can also sign-in directly with existing Gmail or Microsoft or Apple account using federated sign-in option.
Step 3: On Successful Sign-in, click the ChatGPT Option to get started.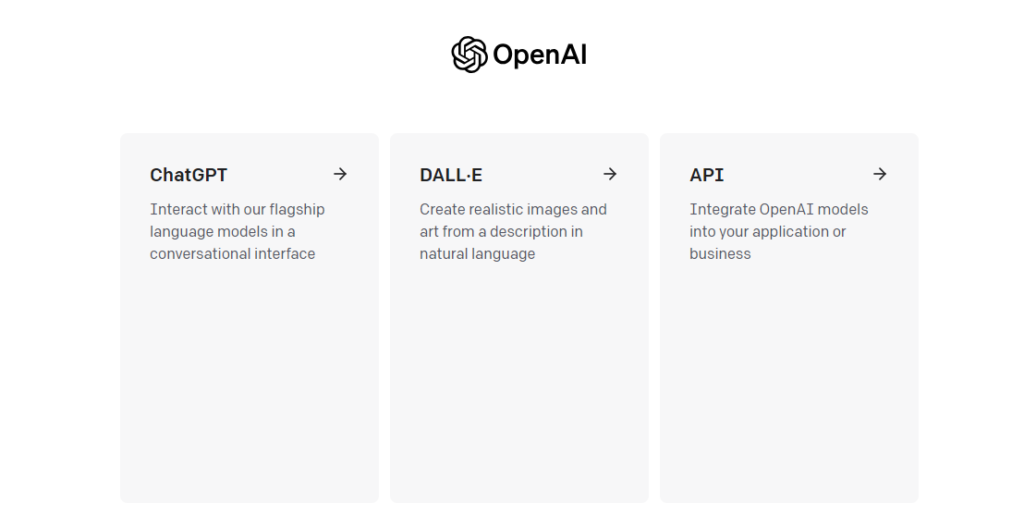 Step 4: To begin with: Start typing your needs in Chat window to get response from ChatGPT. All you need to do is to frame a proper questions/queries in-order to get prompt response.
Introduction to Marketing Hacks with ChatGPT:
If you are out of ideas on what to do, ChatGPT provides a set of results, you get lot of ideas from this and modify it based on your requirements. In this blog, we will see how ChatGPT can be used for marketing.
1. E-Commerce Management:
ChatGPT helps to manage your E-Commerce Business website with multiple ideas For Eg:
Landing Page Ideas
Catchy Post Ideas for Banner Content
FAQ's and Survey templates.
Landing Page Ideas:
ChatGPT will help you to Organize the Landing page for E-Commerce, Creating a landing page requires consideration of design Elements which includes:
Header Section: When it comes to the design for easy customer accessibility is more important. Where ChatGPT will help you with creation of crucial design ideas with regards to element placeholders for easy navigation.
Header Section Elements includes:
Logo and Branding
Menu Creation
Headline tags
Logo and Branding: Logo and Branding are most crucial aspects of building a successful business, which helps to create a identity and trust in the market.
Let's see how an Example with ChatGPT Result:
Step 1: "Type your needs in chat bar window and hit enter button to get response".
Example Search Text: "Suggest a unique logo design for Denim Clothing E-commerce Store".
Note: Alter your search as per the business need in-order to get prompt response.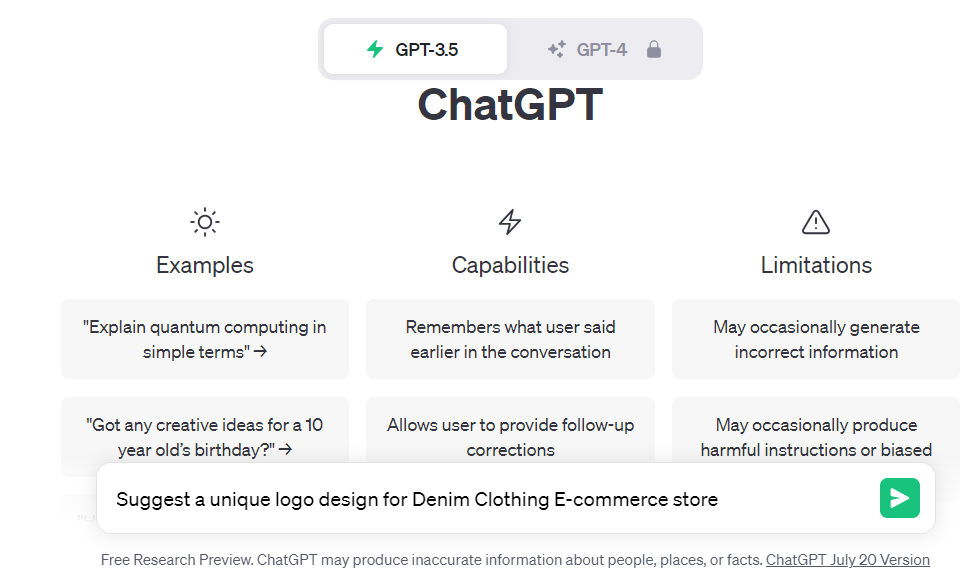 Step 2: As a response you will get suggestions from ChatGPT, the more you interact or modify search you will get better result.
Step 3: Analyse the response and plan for your logo design.
Menu Creation: Creation of Menu requires proper planning for E-commerce store, it should serve the purpose of User experience.
Analyse your needs and get an informative ideas from ChatGPT for menu creation.
"Use properly framed Questions related to line of business for finding apted menus ideas"
Factors to Consider before Creation Of Menu:
Menu Should Contain: Product Categories , Subcategories, Search Bar Menu and Account Login Menu.
Organizing the Menu : Create a clear structure to arrange the Categories and Subcategories it helps users for smooth navigation.
Naming and Terminology: Use proper terms and avoid jargon or ambiguous terms.
Headline Tags: Headline tags are typically written in HTML Code and Range from H1 to H6, it plays a crucial role in structuring the content, improving the website user experience and Optimization of SEO.
Catchy Post Ideas for Banner Content:
The content banners can significantly contribute to the success of a website and its marketing objectives. So, Plan your Marketing Banner Contents with ChatGPT for attention-bragging, ChatGPT gives you the variety of ideas. Choose catchy content for Product Sale Promotion, New Product Launch, Deals and Offer activates, which visually communicates to customers.
The prominent placement ensures that they are one of the first elements visitors see when they land on a webpage, drawing their attention to the message or offer.
FAQ's and Survey Templates:
FAQ's: Creation of FAQ's are more important in E-Commerce, it will reduce our time spending in addressing supports. The most common Questions or Frequently Asked Questions as to be documented with your response which helps customer major repeated queries.
FAQ's are Customer Self-service: FAQ's empower customers to find answers to their questions independently without the need to contact customer support. By addressing common inquiries upfront, customers can get the information they need quickly and conveniently.
Find ChatGPT for FAQ's Templates :
Account Creation
Payment Methods
Shipping and Delivery Policy
Return and Refund Policy
Survey Templates Creation: Surveys are an effective way to gather valuable insights and opinions directly from your customers.
Find Survey Questioner's Templates with ChatGPT:
Overall Shopping Experience Survey
Checkout Process Survey
Shipping and Delivery Survey
Customer Support Survey
Suggestions for improvement.
2. Website Search Engine Optimization:
SEO for Website will boost your traffic organically (Non-paid), Effective SEO strategies can help websites rank higher in search.
Key Aspects to be followed for SEO:
Keyword Planning: Keyword Planning will attract targeted audience, when they search about your products or services.
Plan your keyword strategy with ChatGPT:
Example Search Text: "Create a keyword strategy for Denim Clothing"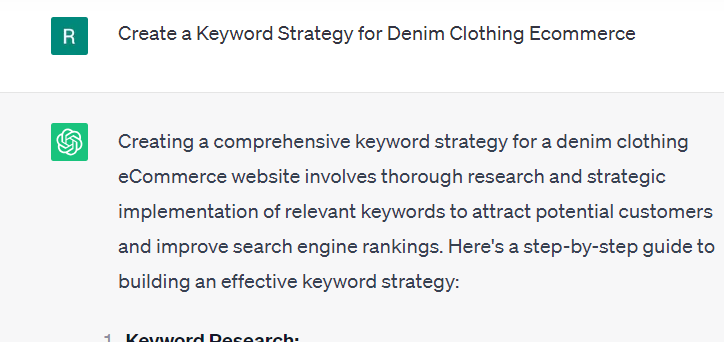 As a response: You will get a proper idea to plan with Key Areas for Strategy.
Keyword Planning Should Include: Keyword Research, Creation of High Quality Content, Product Description, Title tags and Meta Descriptions, Image Alt Text, Category and Navigation Labels, URL Optimization and Backlink Strategy.
Here are few example search related to:
Example Search Text: "Red & White Mixed Denim Clothes Product Description"
Title tags and Meta Description
Example Search Text: "Unique Title tags and Meta Description for Red & White mixed Denim Clothes"
As a response: You will get a quality content for product description and SEO Meta.
3. E-mail Marketing Templates:
Email marketing is a powerful tool for businesses to connect with their audience, drive engagement, and achieve marketing goals. Which helps you in below areas:
Increase in target audience Leads
Brand awareness
Sales improvement
Email Marketing strategy that involves sending targeted emails to a group of recipients with the goal of promoting products, services, building brand awareness, nurturing customer relationships, and driving conversions. It's a powerful and cost-effective way for businesses to communicate directly with their audience and maintain a consistent presence in their customers' inboxes.
Factors Of Email Marketing :
Direct Communication: It helps Effectively convey your message to your target audience via Email Communication.
Segmentation: Segmentation in email marketing refers to the process of dividing your email list into smaller, more targeted groups or segments based on specific criteria. The Segmentations are based on various factors, including: Demographics, Unique Needs and Interests
Note: Ensure your message is short and crisp at the same time it should deliver quality of message.
Creating Sample Email Templates for Digital Marketing:
ChatGPT will help you to get the quality of contents, which can be used for Customer Email engagement. Here are the some sample template Search:
Welcome Email: Sends to New Customer Sign-ups.
Example Search Text: "Welcome Email Templates for New Customers"
Promotional Email: Purpose of promotional Email is to engage with customers for announcement of Special Offers and Discounts.
Example Search Text: "Offer and Discount Promotional Email Template"
Transactional Email: Sends during the stages of order confirmations, shipping notifications, and purchase receipts
Example Search Text: "Order Confirmation Email Template"
Example Search Text: "Shipping Order Confirmation Email Template"
Example Search Text: "Purchase Receipt Email Template"
Cart Abandoned Email: Sends to customers who have added items to their shopping cart but didn't complete checkout.
Example Search Text 1: "Cart Abandoned Email Template"
Example Search Text 2: "Simple Cart Abandoned Email Template"
Surveys and Feedback Emails: Sends to Customer for collect the opinions, feedback, and insights to improve products, services, and customer experience.
Example Search Text 1: "Product Survey Email Template"
Example Search Text 2: "Product Survey Email Template Suggestions"
Example Search Text 3: "Online Shopping Experience Feedback Email Template"
As a response: You may find quality for contents which can be used for your Email Marketing.
Note: Please replace the placeholder wherever modifications are needed.
Here are some free and premium tools for Email Automations:
Email automation technology helps to send emails automatically to a specific audience based on predefined triggers, actions, or schedules.
Hope this blog helps you to understand the how the ChatGPT can be used efficiently for marketing purposes.
Disclaimer: Even though, ChatGPT provides content it is providing data based on the previous content. It is recommended to do research, proof read and modify as needed.