Raspberry Pi is a tiny credit-card-sized computer, which is extremely popular because of its affordable price and its wide community support. Recently, Raspberry Pi released a wide range of Raspberry Pi Compute Modules to support Industrial Customers as well. There is a huge demand in Compute Modules and Raspberry Pi 3B+ as it is widely used in Industrial Designs.
Raspberry Pi also released Pi400 which is a Raspberry Pi built into a keyboard (currently available in 4GB Model Only). A Microcontroller called Raspberry Pi Pico was also launched last year.
You can buy Raspberry Pi Online or at Offline shops available all over the world. Raspberry Pi Foundation partnered with top stores to sell raspberry pi at an affordable price to everyone through its Approved Reseller Program. Here you can get genuine Raspberry Pi Products at affordable prices and some of the sellers provide 1 Year Warranty as well.
These are the Approved Resellers for Raspberry Pi Products in India:
There are 6 Authorized Raspberry Pi Resellers in India. You can find them on the Official Raspberry Pi Website as well. We recommended buying from any of the approved resellers for the best price and latest stocks.
Raspberry Pi 4 Prices in India (Authorized Resellers)
Price Comparison across various approved resellers is given below, the prices and stock availability are updated frequently. Please visit the store link for more details. You can also find these links available on the Official Raspberry Pi Website.
Raspberry Pi 4 Model B - 2 GB RAM
Raspberry Pi Specifications:
Raspberry Pi was initially launched with 3 variants 1GB, 2GB, and 4GB RAM. Later on, 8GB was launched and discontinued 1GB. Temporarily the price of 2GB is increased, but they will take it down to $35 once the chip shortage is over. So currently, there are 3 Pi 4 RAM Variants available (2GB, 4GB, and 8GB). Apart from this, all specifications are the same.
Processor: Broadcom BCM2711, Quad-core Cortex-A72 (ARM v8) 64-bit SoC
Processor Speed: 1.5 GHz (All new boards tweaked to 1.8GHz now)
Wireless Connectivity: 2.4 GHz and 5.0 GHz IEEE 802.11ac wireless, Bluetooth 5.0, BLE
2 USB 3.0 ports; 2 USB 2.0 ports.
2 × 4K micro-HDMI ports (up to 4kp60 supported)
2-lane MIPI DSI display port
2-lane MIPI CSI camera port
4-pole stereo audio and composite video port
Micro-SD card slot for loading operating system and data storage
Recommended Power Supply: 5V DC via USB-C connector (minimum 3A*)
Raspberry Pi 4 Best Price in India (All Sellers)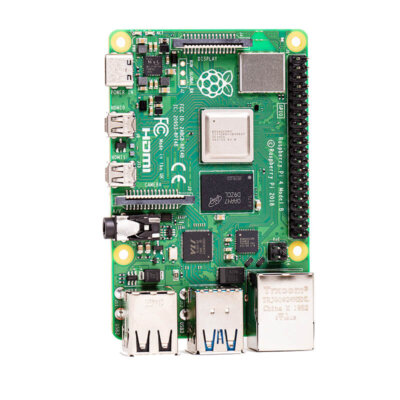 Raspberry Pi 4 8GB RAM Price List:
Last Amazon price update was: November 24, 2023 12:19 pm
All prices mentioned above are in Indian Rupee.
This product is available at Thingbits, Robu, Amazon.in, Factoryforward.
At factoryforward.com you can purchase Raspberry Pi 4 Model B 8GB RAM for only Rs. 7,199, which is 12% less than the cost in Amazon.in (Rs. 8,163).
The lowest price of Raspberry Pi 4 8GB RAM | All New Raspberry Pi Desktop Computer was obtained on November 23, 2023 12:18 am.
Raspberry Pi 4 4GB RAM Price List:
Last Amazon price update was: November 24, 2023 12:19 pm
Raspberry Pi 4 2GB RAM Price List:
Last Amazon price update was: November 24, 2023 12:19 pm
Raspberry Pi Zero 2W
RASPBERRY PI ACCESSORIES
Raspberry Pi 4 Power Supply (Type-C):
Raspberry Pi 4 Official 15W USB C Power Supply (White)
Raspberry Pi 4 microHDMI to HDMI Cable:
Micro HDMI to Standard HDMI Cable for Raspberry Pi 4 - 1 meter
Raspberry Pi 4 Official Case:
Microcontrollers:
Raspberry Pi Pico
Raspberry Pi Pico
Last Amazon price update was: November 23, 2023 6:03 pm
Raspberry Pi Pico W